Virtual reality, in all its immersive and interactive glory, is being touted as the ultimate experiential device for a variety of fields, particularly education. Imagine homeschooling in VR. With your children, you could: tour destinations on earth or in the cosmos; study and manipulate 3-D anatomical, molecular, or geometric models; observe or participate in a historical event; explore daily life in Ancient Greece or Rome; analyze a piece of literature from the inside, as one of the characters; and many other possibilities. Using the technology in such a way would truly give new meaning to the phrase "learning by doing."
Top 10 Companies with Virtual or Augmented Reality for Education
Yet, despite the hype, virtual reality is nowhere near the cool level of sophistication of the Star Trek Holodeck. Nor are VR educational programs widely available and affordable to the masses. (Purchasing ordinary curricula and learning resources is costly enough, let alone shoveling out for expensive VR packages). Alas, when it comes to immersive simulations, most of us are still restricted to the imaginary realms of role plays and reenactments, (virtual worlds in their own right).
(Check it out: Online Homeschooling at a 3D Virtual Academy)
Still, even without computerized aids, pretending to be someone in a particular place and time can be both educational and fun (as many homeschoolers who act out history can attest to). Such experiential exercises may help learners to understand situations or concepts on a deeper level, providing them with a breadth and depth of perspective that doesn't come from merely reading.
Although anchored in the real-world, the following free group activities can encourage active learning by putting kids "in the moment":
Revolutionary Dinner Party: Become colonists during the Revolutionary War period. Host a dinner party for some "famous faces," and select the food and music for the night, and write a dialogue of a conversation you might hear.
(What did people eat during the time of the American Revolution?)
Creating a Government: Stranded on an island with no chance of rescue, you must come up with rules for your community, and in the process, learn about different forms of government, and challenges faced when forming a government. (14-page download)
Civil War Children: See through the eyes of children in the North and South during the Civil War by reading excerpts from actual journals.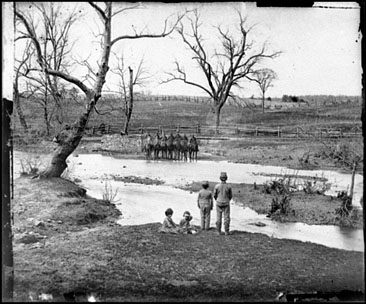 Reconstruction Convention: Step into the roles of historical figures during the time of Reconstruction and defend viewpoints on a number of issues.
Bill of Rights Skits: Act out violations of rights from the first 10 amendments.
Battle Simulations: At a site called JuniorGeneral.org, you can download, for free, paper armies and select scenarios with instructions and background to recreate particular battles, from ancient to modern times. Here's a look at how a teacher used the site's materials to recreate the Greeks vs. Persians at the Battle of Marathon. Epic. 
Trench Warfare: Learn about conditions fighting in the trenches during World War I. There's a link to a Trench Warfare animation that's good for background and for recreating sound effects. 
Stock Market Simulation: Act as brokers and investors, buying and selling stocks from the 1920s. (16-page download)
If I Were President: Role play the President and key advisors while exploring the decision making process of the Executive Branch. Includes simulation material, role cards, instructional powerpoint, and handouts.
Mini Mock Trials: Learn about trial procedure, with several cases to choose from. Includes a mock trial manual and handouts.
Feudal Candy: Become nobles, vassals and peasants to learn about the power structure of the Middle Ages.
Related Resource: Computer Simulation Games for History