Here are some resources to help improve writing skills  -- and avoid those word crimes: 
Digital Education Network: Their writing course,
called Writing Den, has sections on grammar rules and writing tips for sentences, paragraphs, and essays; a vocabulary word-of-the day email signup; and a guide to help you use and navigate the site. There are other dens you can visit, such as MathDen, and the site also has software tutorials (eg. Internet Explorer, PowerPoint, Office, others).
Other ways to say common things: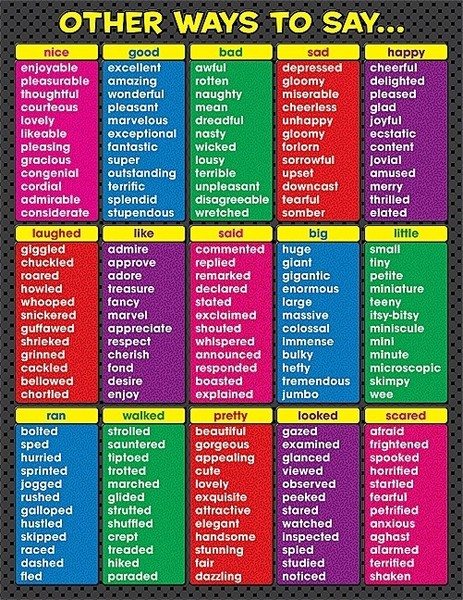 Descriptive and Narrative Writing Skills: Activities to help develop them.
WriteSource is a K – 12 site offering prompts for writing personal compositions or for journal writing. For each grade, there are also different types of student writing samples, such as personal narratives, expository and descriptive paragraphs, reports and creative writing. At the high school level, you can view samples of different types of essays, responses to literature, and research writing.
Citations How To Video:
Essay Writing Instructions: Download for writing expository, descriptive, argumentative, comparison/contrast, and persuasive essays.
SAS Curriculum Pathways' Writing Navigator Suite of Tools: Leads students through a step-by-step writing process. There's the Writing Planner which helps students to state a purpose, define the audience, and generate and organize ideas. Writing Drafterprovides a framework for developing ideas into a first draft. You build an essay section by section, at the end of which you are prompted to analyze sentences, word usage and transitions. The essay can then be opened in the Writing Reviser, which points out potential problem areas, like cliches or misplaced modifiers. It also presents checklists of questions regarding the structure of your essay, sentence variety and clarity, verb tenses, and other things. 
Thesis Generator: Type in your topic, your opinion on the topic, some reasons supporting your opinion, an argument against your opinion, and the generator comes up with several possible thesis statements.
Graphic Organizers: These are from Holt, including main idea, drawing conclusions, sequencing, comparison/constrast, and others.
More On Writing: