Last Updated on September 4, 2023 by TrayKay
If you like using videos in your homeschool, check out Edpuzzle. It's a free site that lets you embed existing videos with questions so you can test your kid's comprehension of the information.
Here's an example of how it works. This Crash Course video on matter has 22 embedded questions. As a learner watches, the video automatically pauses with a question the learner is prompted to answer. Once the answer is submitted, the learner gets immediate feedback on whether it was right or wrong, and can then move on.
It's a way to turn passive video viewing into a more active learning experience.
Edpuzzle's Video Library
If you've got a particular topic in mind and are not looking to reinvent the wheel, you can start out with videos that are already on Edpuzzle. For example, Edpuzzle Originals are pre-made video lessons covering Math, Science, English, and Social Studies for different grade levels. These videos already have integrated questions, but you can customize them by editing and creating your own versions.  If you want to supplement and reinforce existing curriculum materials, this is a good place to start.
Besides Edpuzzle Originals, you can search the video library for a topic you're looking for, say, "causes of the American Revolution," and chances are, there are already videos with questions on there. For example, this Brainpop video has eight embedded multiple choice and true/false questions.
You can search by topic, or by source. So, maybe you want to find something from Ted-Ed, SciShow Kids, DisoveryEd, NatGeo, or another video series you like. Just pop it into the search box. You can also search under the category of Edpuzzle hosted videos, which have embedded questions for existing videos and video series like this one on the rock cycle from Magic School Bus; or this one from Amoeba Sisters on human body systems.
If you still want something else, you can always add the content yourself by uploading a video. Then you can do things like cut the video and add different types of questions such as multiple choice, true/false, short answer, fill in the blank, or open-ended. You type in the choices, indicate the correct answer with a check mark, and the site grades the questions automatically. You grade the open-ended questions yourself.
Edpuzzle Features
It's easy to create a free account and get started. Here are some things you can do with Edpuzzle:
Create classes for your kids' subjects and assign videos with start dates and due dates. You can email links to assignments or give them a code generated by the site to access assignments.
Customize the same videos based on each kid's level. For an older child, insert more challenging comprehension questions that require deeper analysis of the concepts covered in the video. For a younger child, focus the questions on basic understanding of key ideas and vocabulary.
Set the questions so that answers are either typed in or given orally. Enable questions to be skipped or not; enable multiple tries and re-watches.
Track progress to see who has watched the videos and completed the questions, and how well they did.
Edpuzzle And Homeschool Lessons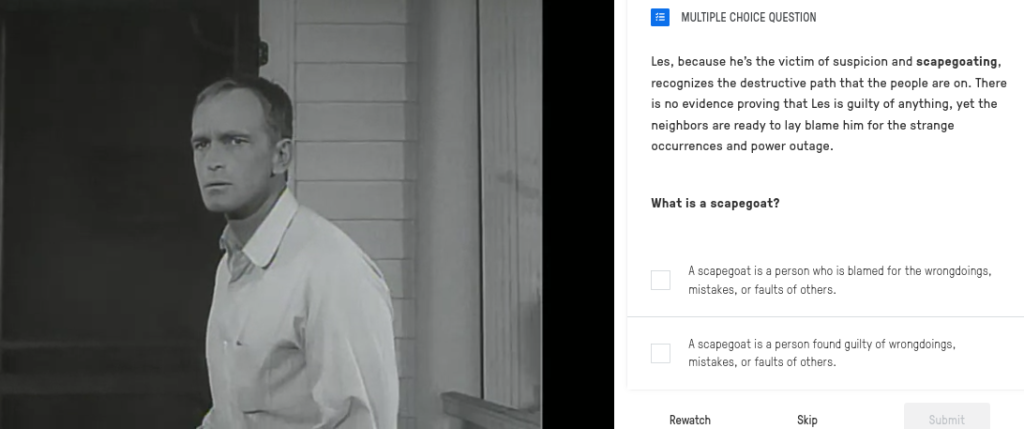 Edpuzzle's videos can be used for more than review of core subjects. You can use existing lessons or build your own lessons covering art and music or cross-curricular studies. Some examples:
Educational Video, by traykay