Last Updated on November 9, 2023 by TrayKay
When geocaching on a road trip, or even around in your own neighborhood, you can use the activity to learn about the geography, history, culture, and plants and animals of an area.
Unraveling the Past
Caches are sometimes placed near historical markers, monuments, and artifacts that provide a way to interact with local history. You can take the opportunity to read up on significant events of the past, in some cases, standing in the very places where the events took place. This brings history to life in a way textbooks never do.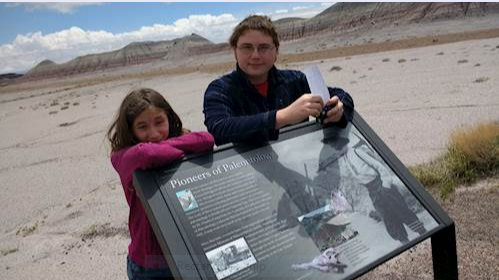 Nature Exploration
Geocaching encourages participants to step outside and explore parks, forests, and other natural areas.
It's an opportunity to learn about the environment and ecosystems. Caches are often placed in areas with ecological significance, asking geocachers to do things like identify trees, leaves, or rocks in an area, or answer questions about a particular landform, like a mountain. 
And sometimes, locating caches requires you to venture down trails, some of which have markers that tell you about the local flora and fauna.
Free Geocaching Tools:
Smartphones have made it very easy to geocache, (get the free app). Here are some other free apps that can be used in tandem with geocaching, or by themselves to help make geography more interesting: 
Google Earth: You can use Google Earth to virtually explore the area surrounding a geocache or the town it's in. View descriptions and images, and pinpoint historical points of interest.

Waymarking: This free site helps you pull up all kinds of unique and interesting places in your surrounding area. Put in an address, or search by one of hundreds of categories that range from the  ordinary to the bizarre, and everything in between. Some of the entries we pulled up around Santa Fe included wagon roads and trails, labyrinths, urban legends and superstitions, and weird natural formations. There was even a category showing locations for and information on penny smashers, (one of my daughter's interests).
Free Geography Resources: