Explore chemistry concepts using a variety of free resources, including video lessons and demos, labs and activities, worksheets and games:
2. GPB Education: Georgia Public Broadcasting provides a free fundamentals of chemistry course for high school students. The content is delivered through 30-minute video lessons, and accompanying note-taking guides and worksheets.
3. Creative Chemistry: This site provides PDF worksheets and guides, and PowerPoints on a number of chemistry topics. There's a molecules section that allows you to view and manipulate molecular models, and a section with chemistry games and puzzles.
4. Chemistry Now: A weekly, online video series that explores the science of the everyday. The short (5-minute) programs explain the chemistry behind ordinary objects and occurrences, such as cheeseburgers and chocolate, changing leaves and the fear response. The series also takes a look at chance discoveries in chemistry (like Kevlar) , and the work of today's top scientists.
5. Chemistry Online: Includes lecture and review slides, video tutorials, and a textbook.
6.   Periodic Table of Videos: As its name implies, this site is a modern version of the Periodic Table of Elements, with short videos explaining each element's significance and how they're used. 
7. goREACT: From the Chicago Museum of Science and Industry, this site lets you create virtual chemical reactions by dragging elements from the periodic table to a "reaction area." 
8. Chemical Symbols Game: This game is designed to help players identify the first 92 elements by their symbols. Players must combine the correct elements in the "reactor" to make various compounds. Scroll to the bottom of the page for more links on chemical equations and the periodic table.
10. Sciencegeek: A variety of chemistry PowerPoints with charts and other illustrations.
11. Chemistry Full Course: From Georgia Virtual Learning, the lessons in this OER (open education resource) include videos, notetaking guides, and other downloadable resources.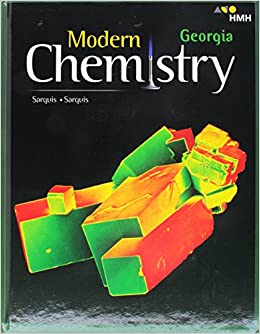 Modern Chemistry Online Textbook 
Login at my.hrw.com       Username: cmcclammey         Password: p5t5
After logging in, you will be on the page to access the Student Edition of the textbook and Student Resources. Click into Student Resources to access a variety of printable resources and virtual labs, videos, and simulations. Click into the Download Center for a PDF version of the textbook.